Manipuri Folk Dance of Manipur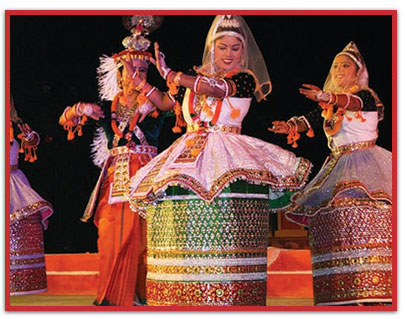 Manipuri is the classical dance from the Manipur region in the North East. Slow and gracious movements differentiate Manipuri from other dance styles. The delicate arm movements and gentle foot work characterise this dance.
The repertoire is dominated by the themes from the Vishnu Puranas, Bhagvata Puranas, and Geeta Govinda. Manipuri dance is very much religious and associated to Vaishnav cult of Hinduism.
Every time the dancer puts down his or her feet, even during vigorous steps, it is the front part of the feet which touch the ground first and 'break the fall'. The ankle and knee joints are effectively used as shock absorbers. The dancer's feet are neither put down nor lifted up at the precise rhythmic points of the music but rather slightly earlier or later to express the same rhythmic points most effectively. Like the movements of the body and feet, the facial expressions in Manipuri dance should be subtle.
It was originally only performed in temples and continues to form an integral part of the religious and social fabric of Manipur. Manipuri dance, whether folk, classical or modern, is devotional in nature. The people of Manipur are very religious and are exclusively attached to the Hindu deities Radha and Krishna, who are often the main characters depicted in Manipuri dances.
It is only since the early 20th century that Manipuri dance has been presented on stage. It became better known outside the region through the efforts of Rabindranath Tagore.
Today Manipuri Dance has become a ruling passion and an aesthetic obsession for initiated artists and the spectators alike because of its colourful adornment, lightness of dancing foot, delicacy of abhinaya, lilting music and poetic