Garba Folk Dance of Gujarat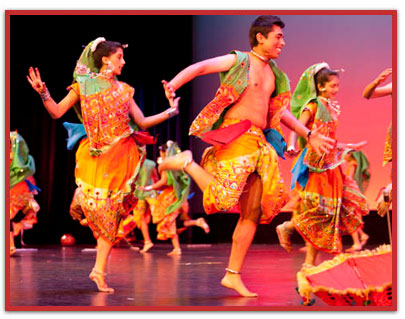 Garba Dance is a popular folk Dance of Gujarat. It is a circular form of dance performed by ladies on the Navaratri days, Sharad Purnima, Vasant Panchami, Holi and such other festive occasions. The basics of the dance are singing and clapping rhythmically while going round the goddess.
Garba is the leading dance of women in Gujarat. The Garba dance is performed throughout nine nights of Navaratri. The actual performance begins at night after the women finish their house hold work. All gather at street corners.
Women folk come out into the open and with perforated earthen pots holding lighted lambs poised on the head sing, clap. Garba songs are mostly in praise of Mother Goddess Amba. The rhythm is kept by a Dholi or drummer who sit in the centre.
The costumes and the instruments used during these folkdances are also typical folk costumes which mostly consist of a short coat called Kedia with tight sleeves with embroidered borders and shoulders, tight trousers like the Churidars and colourfully embroidered caps or coloured turbans and a coloured waist band.
Instruments
Damru, Tabla, Nagara, pot drum, percussion, Ektaro, Ravan hattho, Jantar, Pavo, shehani, murli, turi, and taturi