Fire Dance of Rajasthan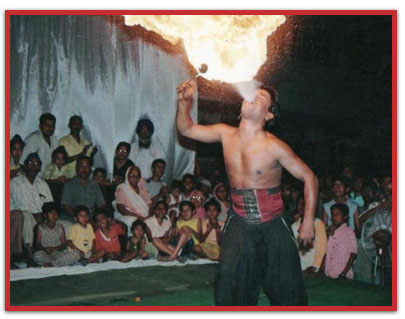 An authentic fire dance is performed by the 'jasnathis' of Bikaner and Churu districts. The accompanying music rises in tempo as the dance progresses, ending with the performer dancing on brightly glowing embers, which is a breathtaking and deeply impressive sight.
A very big ground is necessary for this form of dance where live wood and charcoal are piled and the Jasnathi men and boys jump on to the fire to the accompaniment of drum beats. The music gradually rises in tempo and reaches a crescendo, the dancers seem to be in a trance like state.
The music gradually rises in tempo and reaches a crescendo, the dancers seem to be in a trance like state. Drum Dance: This is a professional dance-form from Jalore. Five men with huge drums round their necks, some with huge cymbals accompany a dancer who holds a naked sword in his mouth and performs vigorously by twirling three painted sticks