Bhangra Folk Dance of Punjab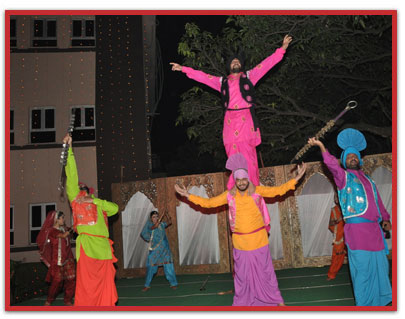 Bhangra is a lively form of folk music and dance that originates from Punjab. Punjabis performed Bhangra to celebrate the sucess of the harvest. People perform Bhangra on the day of Baisakhi, April 13. Bhangra is considered the king of dances.
During Bhangra, people sing Punjabi Boliyaan lyrics, at least one person plays the the dhol drum. The dancers begin to move in a circle around the drummer, who now and then lifts the two sticks, with which he beats the drum, to beckon the dancers to a higher tempo of movement
The costume of a Bhangra dancer consists of a bright, colored Patka on the head, a lacha or lungi of the same color, a long tunic and a black or blue waistcoat and ghunghroos on the ankles. Some dancers also wear small rings (nuntian) in their ears.
Several Styles of Dancing
Sialkoti, Sheikhupuri, Tribal, Malwa, Majha. One of the Bhangra's moves is also akin to the moves of Shiv-Tandav dance, which is danced on one leg
Abroad this Bhangra was marketed by music corporations as a source of revenue in the form of cassettes and CDs. Commercial Bhangra groups came into being in UK and other places and performed this commercial Bhangra. But Several Bhangra groups also came into being in UK, US, Canada.
Some of these Bhangra groups and teams participated in the 1st International Sports and Cultural Festival organised by the South Asians in Vancouver. Bhangra as is said is Shaan of Punjab